Vision Fasting Completely Changed My Perspective on Life
Alone in the wild without food: I never felt more alive.

When I reached the beach, I had been fasting for one day and two nights already. I would spend the next three days here. Alone. Without food. Without smartphone or books. Just me, my tent, sleeping bag, a canister of water. And, crucially: my soul journal. A vision fast is foremost an encounter with soul—a quest to find the most profound truth about yourself: the reason you're alive.
A vision quest is a ritual enactment of the hero's journey: you leave the village, roam the wild, then return with supernatural gifts. It's a rite of passage. A boy leaves behind his mother's safety, survives a dangerous ordeal, and returns as a different being: a man. Transformed.
Severance: losing your old identity
We had converged towards the isle of Iona, like pieces of driftwood swept up by the tide. On arrival, our guides immediately set course for the deep. Skip the "this is my name; this is what I do for a living" introductions. Instead, share your most vital dream image or memory with the group.
I am in Spain, on a beach, watching the sun glitter on the Mediterranean sea. Thousands of sun glimpses splash on the dancing wave patterns and signal a divine morse code. What if entropy does not swallow information, but preserves it? The whole history of the world shapes these waves. The mesmerizing patterns of flickering lights would reveal the Akasha Chronicles—if only I could read them.
We were sitting in a circle in an old barn, speaking in turn only when holding the talking stick. We focused on listening deeply, in an ancient tribal ritual: council—sacred speech.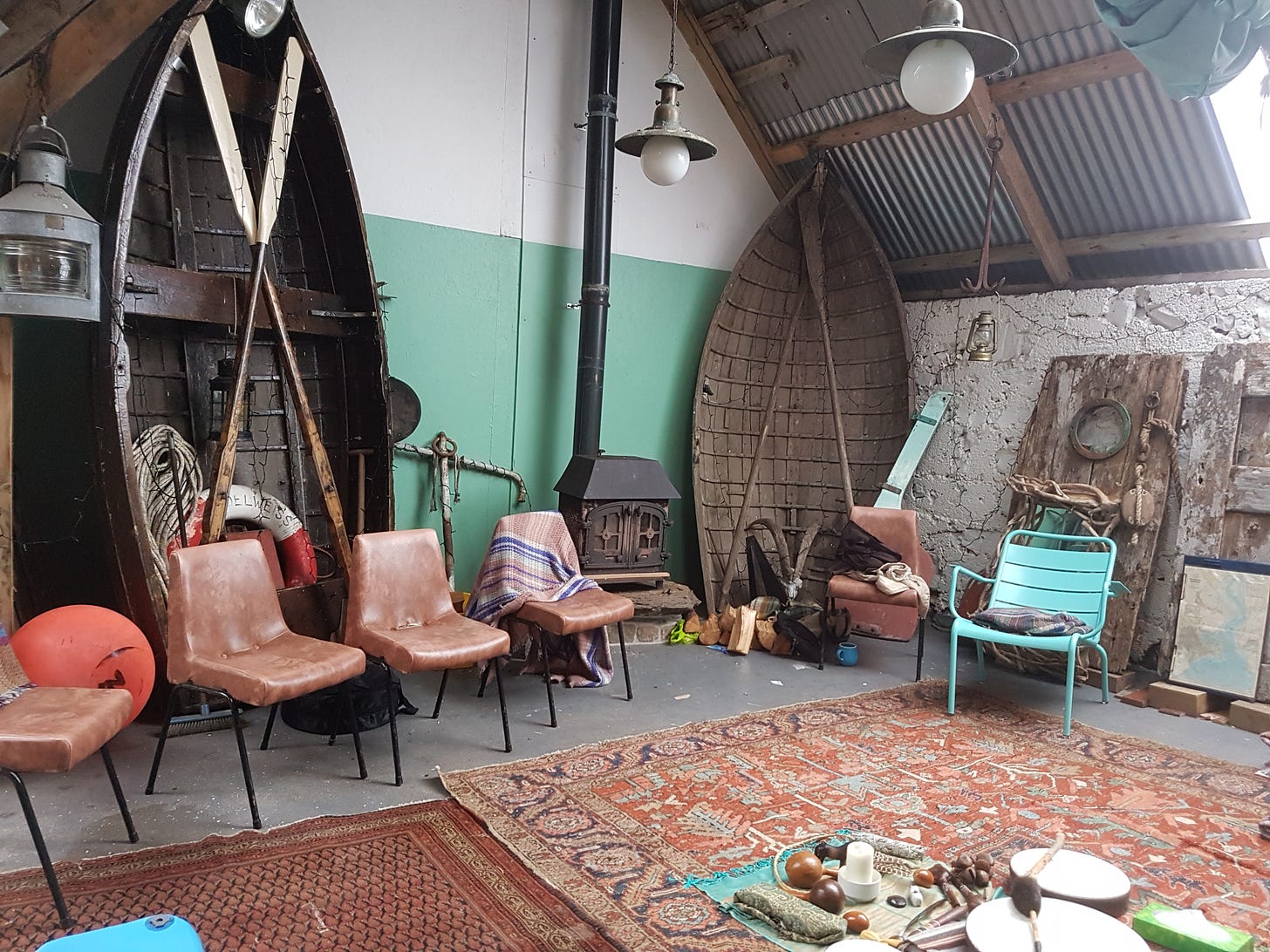 Everybody brings their own ordeal. You don't sign up for an expensive program, centered on neither speaking nor eating for days unless you have a radical commitment to sort out your shit. Most of us were pretty intense.
I was on fire. Desperate. I had lost my marriage, my business, my community, my money, my home, my mother. My whole life had come apart at the seams. Spilling my grief lit up the room. A cascade ensued of opening up, being heard, and shedding tears of compassion for the suffering you witness in others. We forged lasting friendships in a bonfire of raw emotions and heartfelt connections.
Feeling enmeshed in that small community, even if it was only for 12 days, was transformative. We are genetically wired to live in a tribe, as social animals. I'm a lone wolf by default, or so I thought. Yet belonging with a small band of lovely people felt amazingly right. My energy levels went through the roof.
---
We shared stories and dreams over meals. We partied and drummed and danced. We headed out into the open with open hearts and senses, sometimes as a group, sometimes alone. Soulcraft practices provided gateways into the wild wonders of nature and the human soul. I had read the eponymous book by Bill Plotkin, founder of the Animas organization that facilitated this vision quest. I knew I was courting danger. It's why I had come. Little did I know.
It is essential to have experienced guides holding this process. I'm so glad I did not try to do this by myself, in a dark corner of a forest at home. The goal of a vision fast is quite literally to lose yourself in the wild. That is inherently dangerous: psychologically dangerous, physically dangerous. Our guides were full-time experts who have dedicated their lives to eco-centered healing. They spun a web of poetry, rituals, and wisdom that invites you to open up, go off the reservation, and return more whole.
---
What you can plan is too small for you to live. What you can live wholeheartedly will make plans enough for the vitality hidden in your sleep. — David Whyte, What to Remember When Waking
---
I ran into trouble fast. Witnessing a woman speak about the death of her child moved me to tears. It's like her shell cracked open. I was looking directly into the lava of her soul. I fell in love in a way I had thought beyond me. The guides encouraged me to name my feelings for her in the group. Terrified, I skulked about the island under dark clouds. My inner turmoil was mirrored in the storm winds buffeting the long grass. David Bowie wailing in my head: Wild is the wind.
When the group reconvened, she spoke of healing, and I was spellbound, mesmerized. She spoke of love — suddenly, gusts of wind loudly tore at the roof of the barn. It was all too much. Inner world and outer world, self and other, all boundaries collapsed.
Scary. Exhilarating. Wild.
I was ready.
Threshold: entering the realm of magic
To ensure my return from the abyss, I left a picture of my daughters under a stone. We formed a magic circle, and one by one, stepped into the void. We fetched our gear and dispersed around the island, each to their chosen place. As I walked there, I hummed the song I had written the night before, under a full moon, to a shaman drum's beat.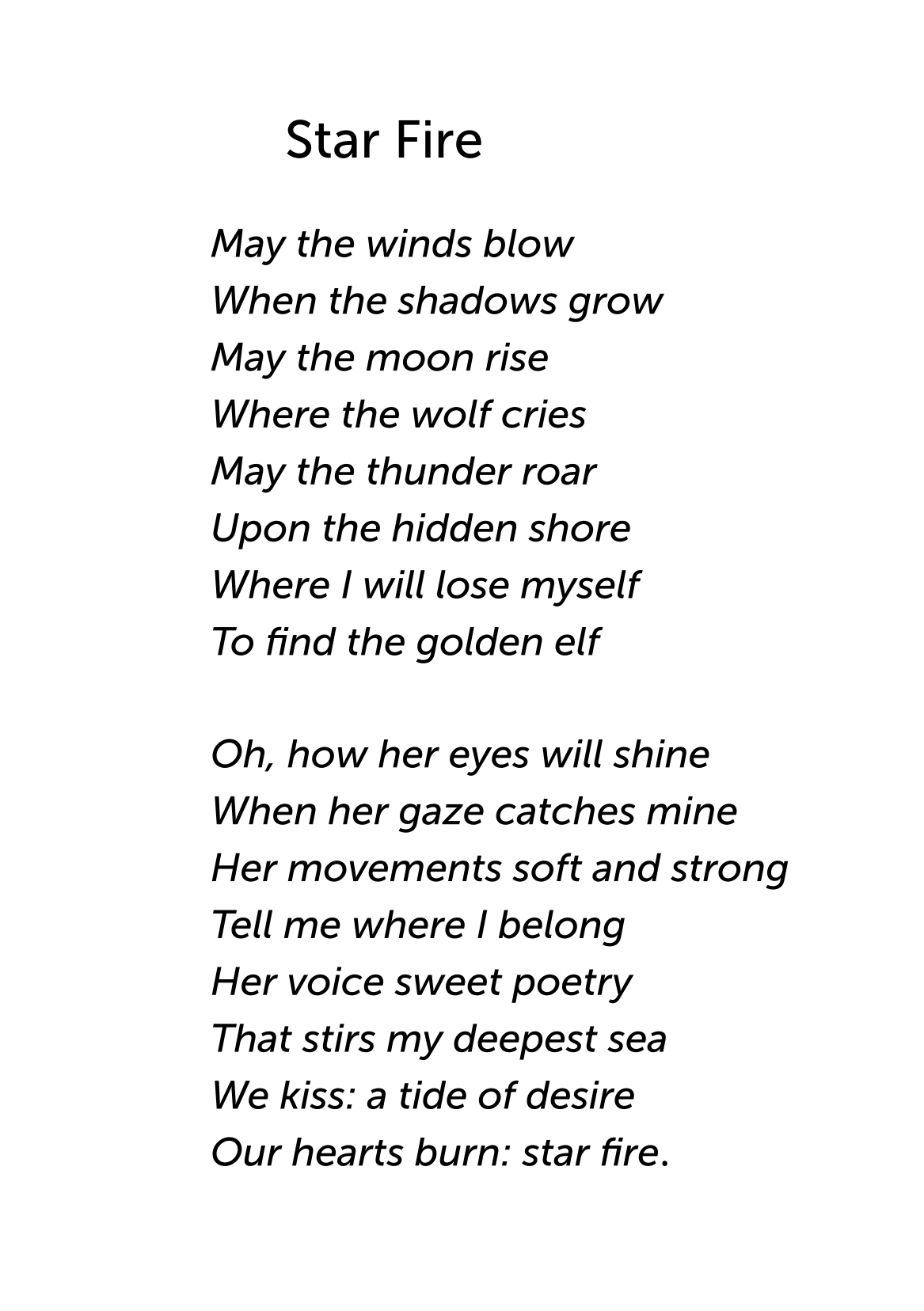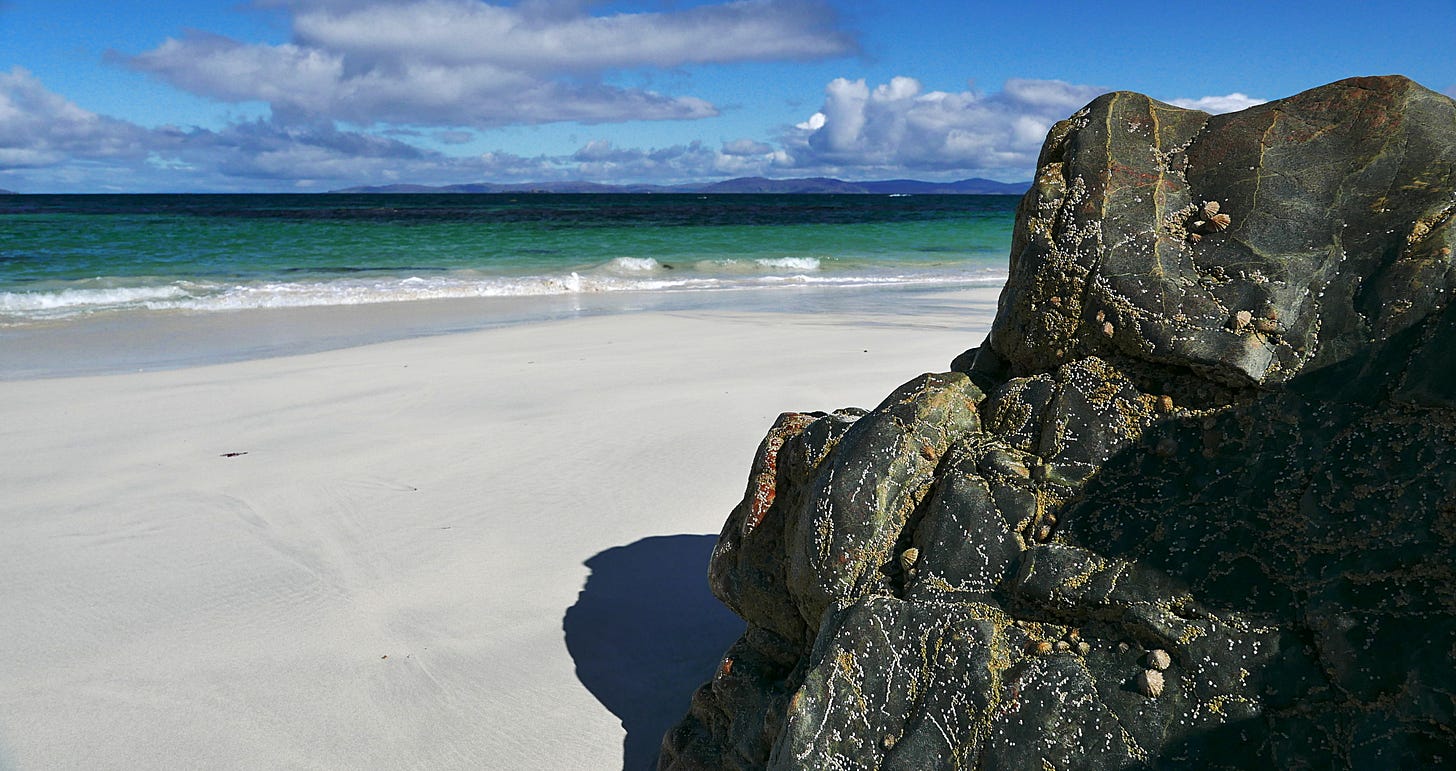 Three days of pure magic, I lived alone on the beach. A lucid dream. Nothing like the tension or depression I feared. Instead, I surrendered into openness. Into the rhythm of the tides constraining and enlarging my little space. The coming and going of showers and sunshine.
I lay down in my sleeping bag when it rained, or I was tired or cold. I wrote in my journal. I visualized finding new love and inviting my ex for my new marriage. That got out of hand. I ended up performing a ritual at the seaside, in which I married a mermaid living in the waves. She was the one that proposed. How could I resist?
I was mesmerized by the wonders of the natural beauty around me. Patterns of shells, moss, and cracks in stone revealed themselves deeply meaningful. I read a language of alien runes, which only the nonverbal part of my brain could begin to decode. I took stunning pictures, translucent windows into the mysteries of life and the universe. They're among the best photos I ever made, in a lifetime of photography and travel.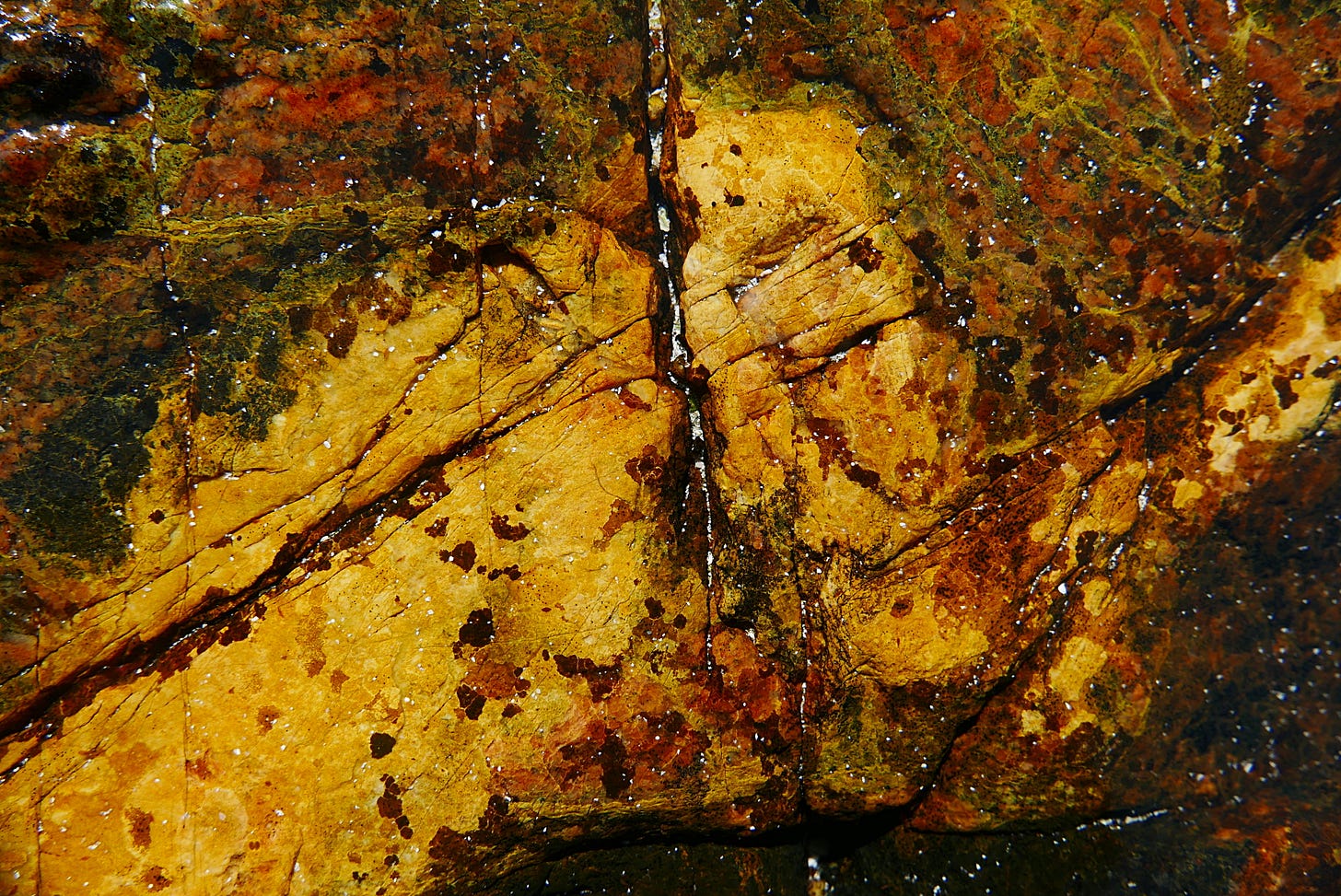 Return: finding a way back home
At the end of our fast, we all converged back to the hostel that was our base camp. We shared our first meal and enjoyed each other's company. We debriefed in a series of council gatherings spread over three days. Counting down the days to the end of our retreat, I felt strangely deflated. I wanted to hold on to this peak experience. I had found magic in my solo vigil and heart connection in our little community. Finding such precious gifts, then having to let go and part ways, that sucks.
Leaving, we hugged, then gradually unwinded our invisible connections, weaving in and out of conversations on the ferry. Some of us converged again for dinner in town. My muse joined me for a fairy tale train ride across Scotland to Glasgow. A final farewell. Then I was alone, my head spinning, a storm of whirling emotions.
I prowled the city with fresh eyes, like a visitor from another time, raw and open like an animal. A street musician brought tears to my eyes. I bought a new notebook and started writing. Kept writing unsent love letters obsessively for months.
---
Having faced my private demons, I was now facing the hardest part of my journey: how to be at home and live soulfully, in an ecocidal society. We are all living in a death cult.
The gifts of the Forest are now often unwanted by the returned-to society. If the community is in denial of a Great Self, then your shining and gifts are deeply threatening. – Martin Shaw
It's been three years. I'm still unpacking the gifts of those days. They awakened a fierce sense of being rooted in the mysteries of the more-than-human world. I'm still maintaining friendships forged that fortnight. I am still figuring out how to be true to my deepest self. How can I be a force of healing in this time of great unraveling? I'm feeling my way into my calling to write. To truly, fully, live.
I discovered a way of being that is older and more vital than city hustle. I found a source of well-being beyond the claustrophobic rat race of business and distraction. I see a path into a future that is not ego-centric, or even human-centric, but eco-centric. The natural world is not a place — it's alive, brimming with intelligence and ancient wisdom. It heals whoever steps out of their comfort bubble and surrenders.
The sacred is right here, at the edge of your vision: it wears feathers and leaves and speaks through cracks in stone. All you have to do is listen. As if your life depends on it. Because it does.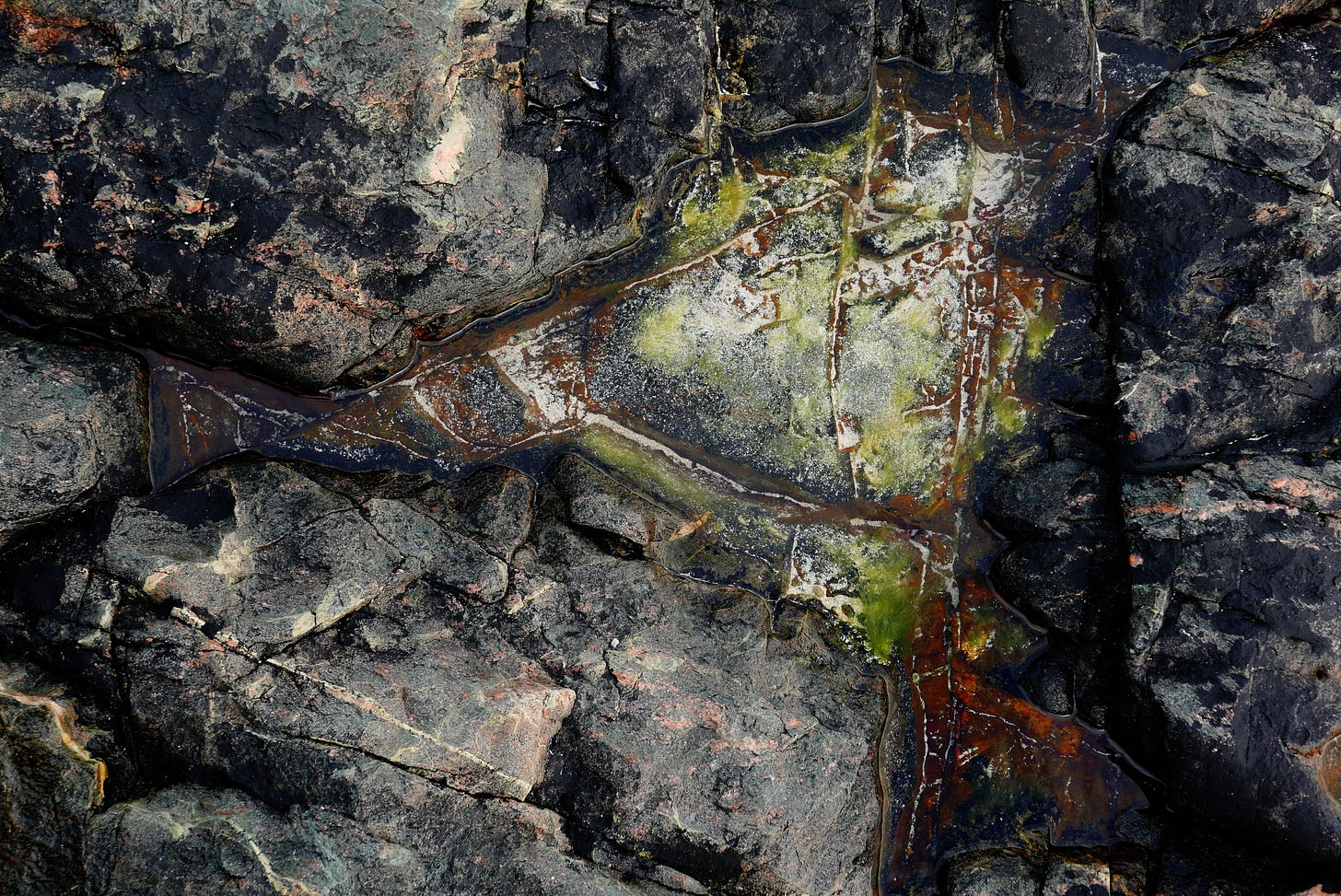 All photographs in this story are © Guido Stevens — all rights reserved.
Resources